Posted by Sumit K Suman, President Shop N Save Mart on 25th Feb 2015
Thanks to the advancements in the diamond tools industry, evolution of diamond tools design to meet specialized polishing grinding sanding cutting needs of different material and shapes, has attributed to preserving restoring the timeless beauty of marble glass stone concrete surfaces and countertops edges.
Diamond Hand Polishing Pads - Diamond Tool
Diamond hand polishing pad is such a hand tool made with diamond abrasive to smoothen restore sand and polish hard surfaces such as marble granite concrete glass edges petrified wood agate, travertine other artificial or natural stones and gems. A countertop, floor, fossil, historical monument or marvelous master piece of sculpture consists delicate pieces, crevices, corners, parts with limited access, round overs where accuracy of work is of paramount importance, automated tools can't reach and the force imparted by automated tools may damage work piece. A diamond hand polishing pads is an appropriate tool designed for such needs, as perfect as a needle for minor sewing and delicate patching of clothes.
Diamond hand pads is very popular among stone glass marble historian professionals with such needs, it provides better control on the polishing or grinding task. It is as well handy for on-site polishing, removing scratches, and other polishing tasks that needs high accuracy and is very effective on glass, marble, concrete, stone, and granite surfaces.
The following discussion elaborates more on how to use diamond hand polishing pads to polish stones and glass edges polishing sanding.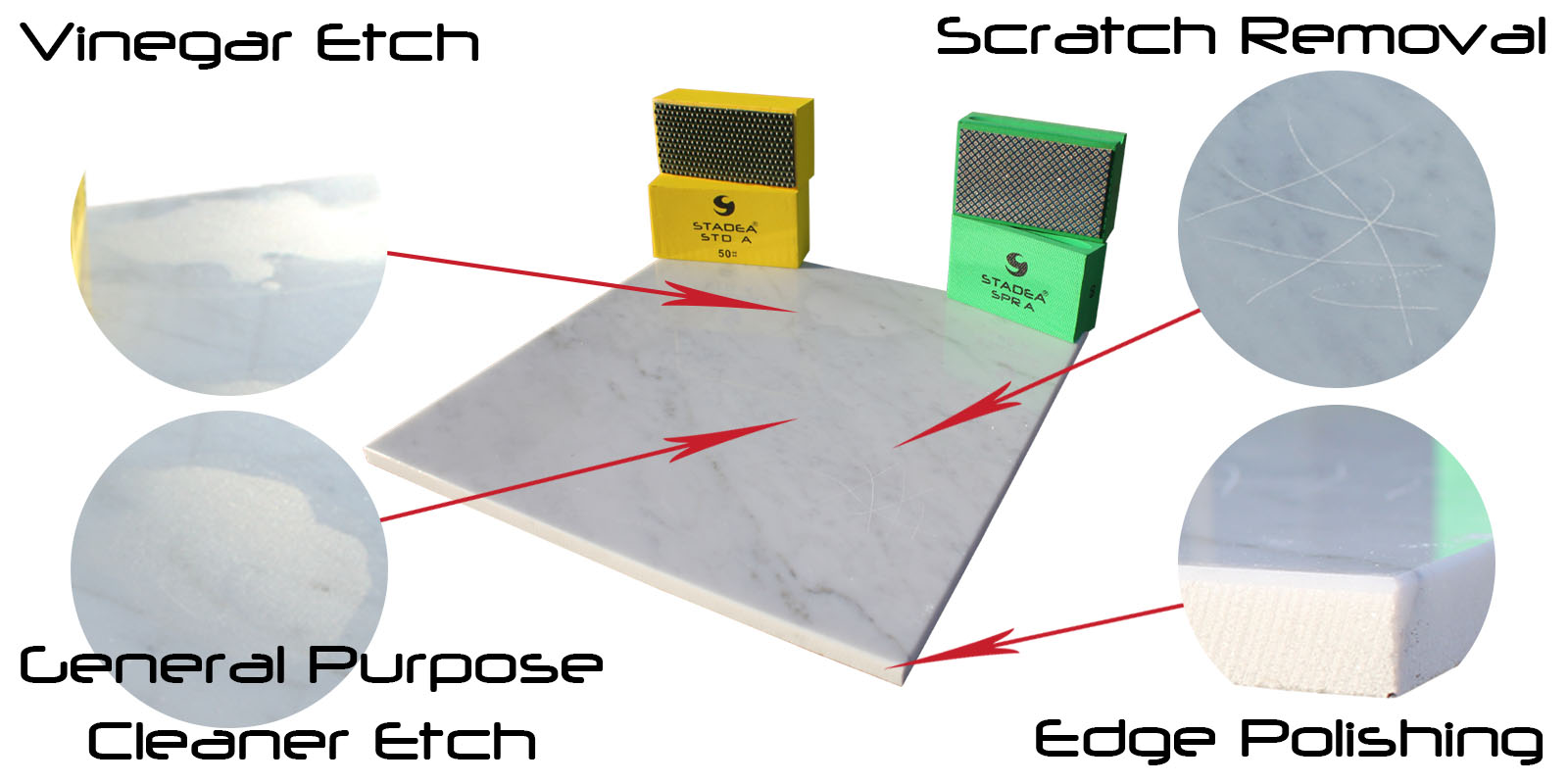 Diamond hand polishing pads are available in all practical necessary grits size for polishing right for coarse to fine high gloss finish. Different grits assist to attain a desired level of shine on hard surfaces.
They are manufactured typically in two different two bond types to provide the best possible finish; the electroplated bonded diamond and resin bonded diamond.
Electroplated grits use nickel-plating technology to hold each individual diamond in place.
These electroplated pads can be used on glass edges, marble, concrete, stone, granite for more exclusive result. The best uses are to smooth off curved edges and to remove hurdle, snags. These pads are comparatively more aggressive and are very suitable for aggressive grinding and quicker stock removal. They are more durable compared to resin bonded hand pads.
Electroplated pads are available typically in grit sizes below 500, common available grits sizes are 50, 100, 150, 200, 400 and 500 grits.
Resin hand pads are available in coarser as well as finer diamond grits. The resin bond is coated on a special backing material. Resin bonded diamond hand polishing pads are more flexible. These pads perform especially well with some water, for honing and polishing marble concrete stone and granite.
Resin bonded pads are generally available in grit size 50, 100, 150, 200, 400, 500, 800, 1500, 3000 and Buff. In addition, it is designed specifically for complete honing and polishing.
Use Cases of Diamond hand polishing pads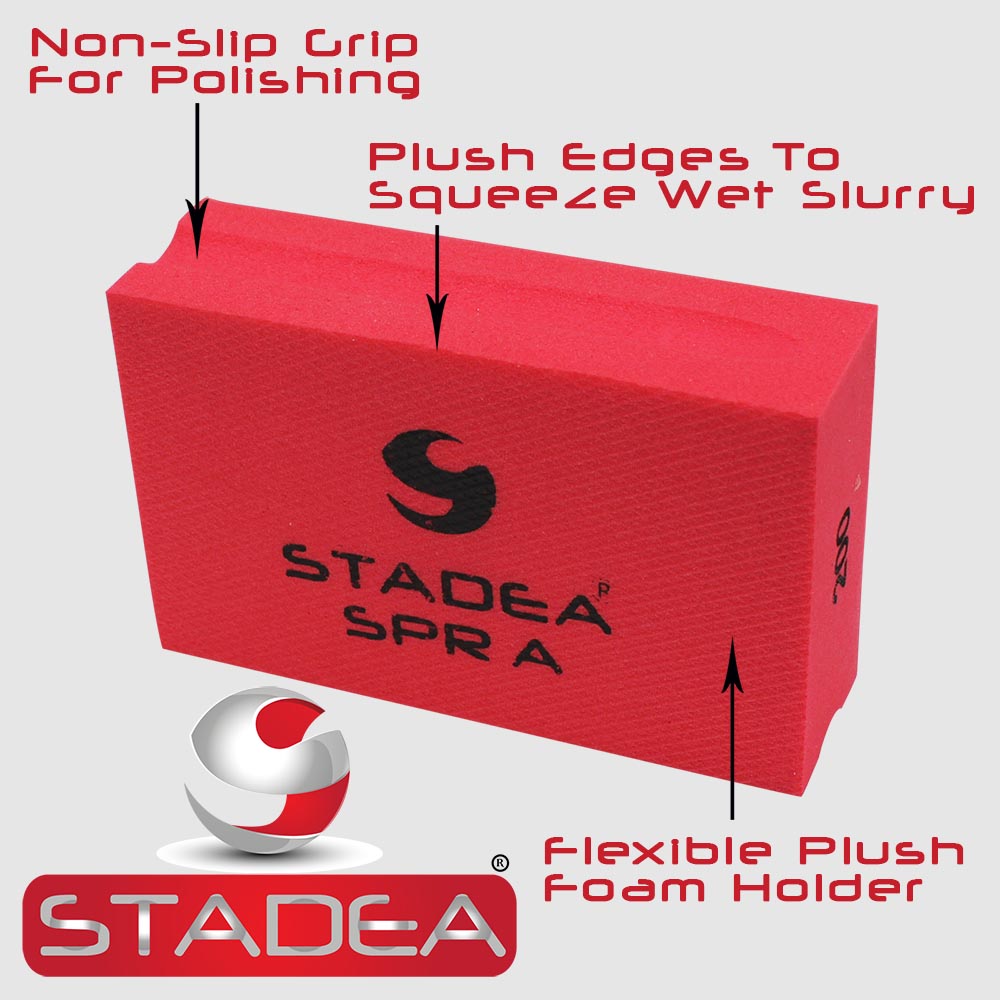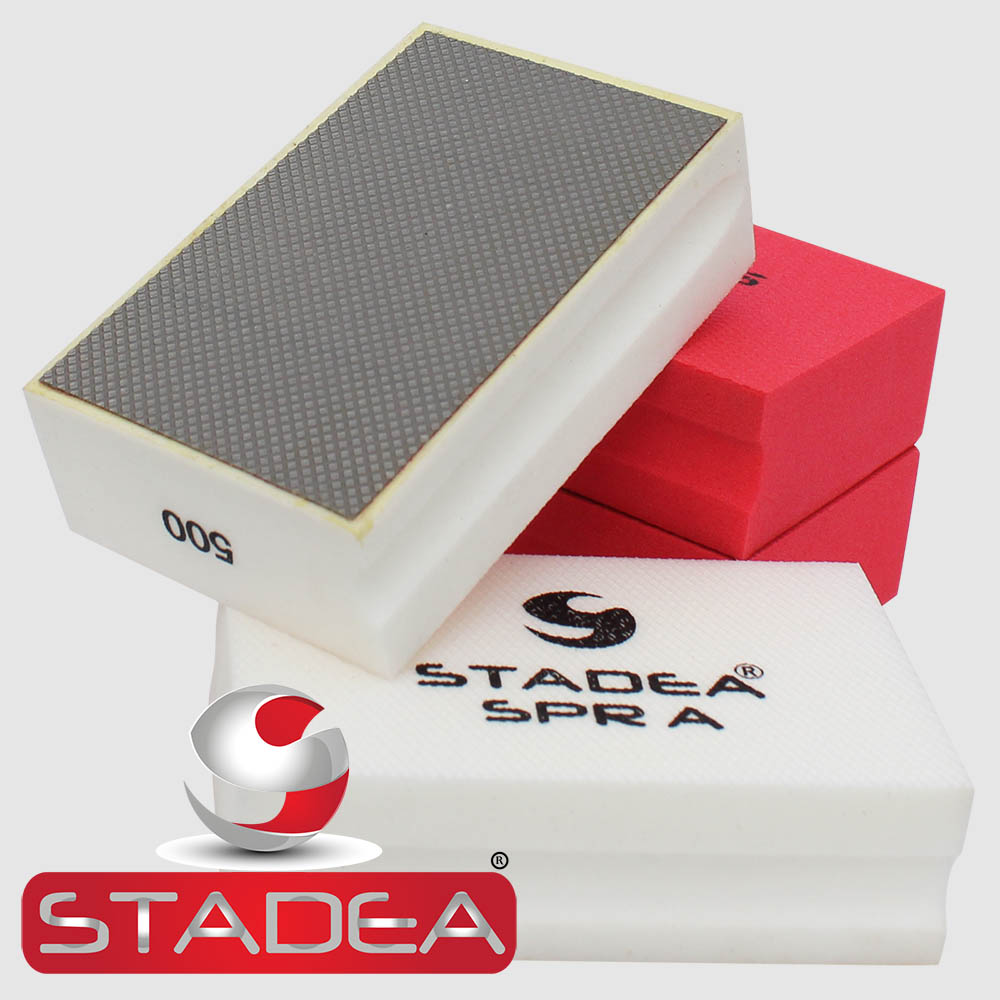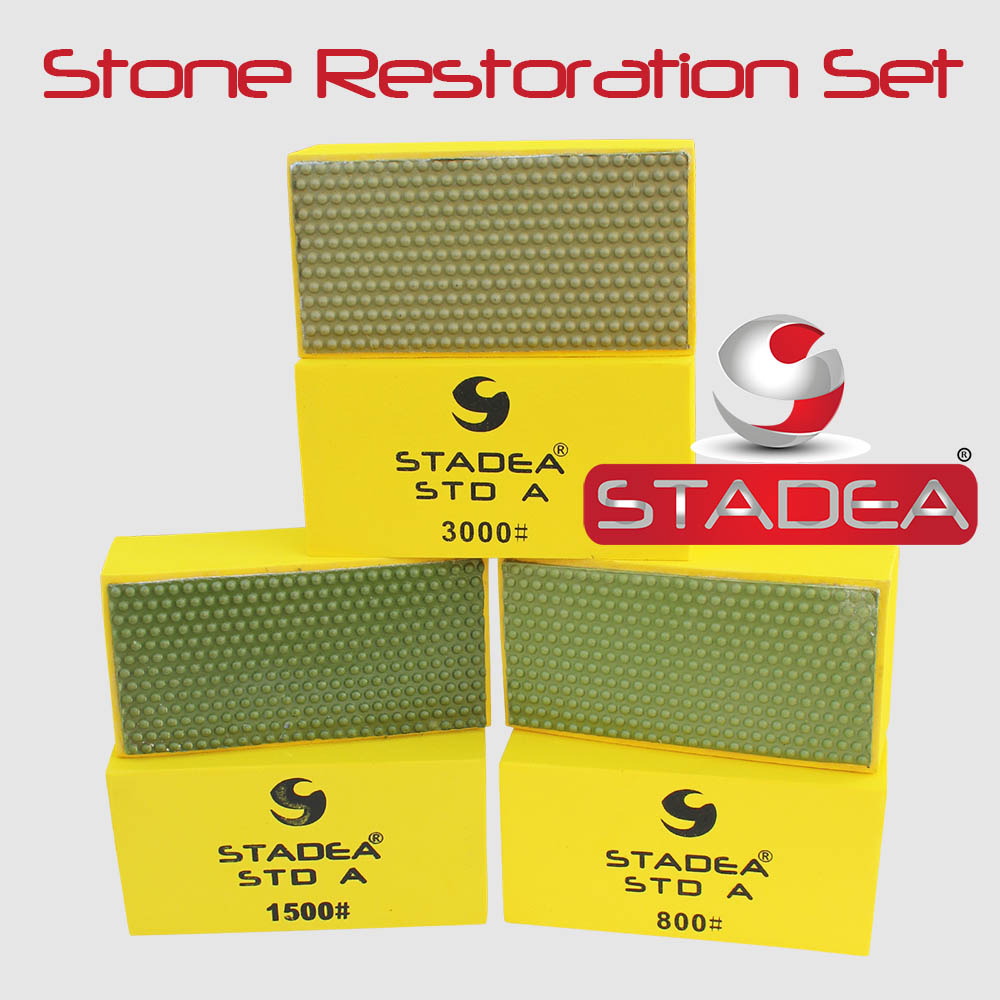 Hand polishing pads are useful in numerous ways for stone marble concrete fabrication and restoration, the following are best uses of diamond hand polishing pads.
Polish Stone With Hand Polishing Tools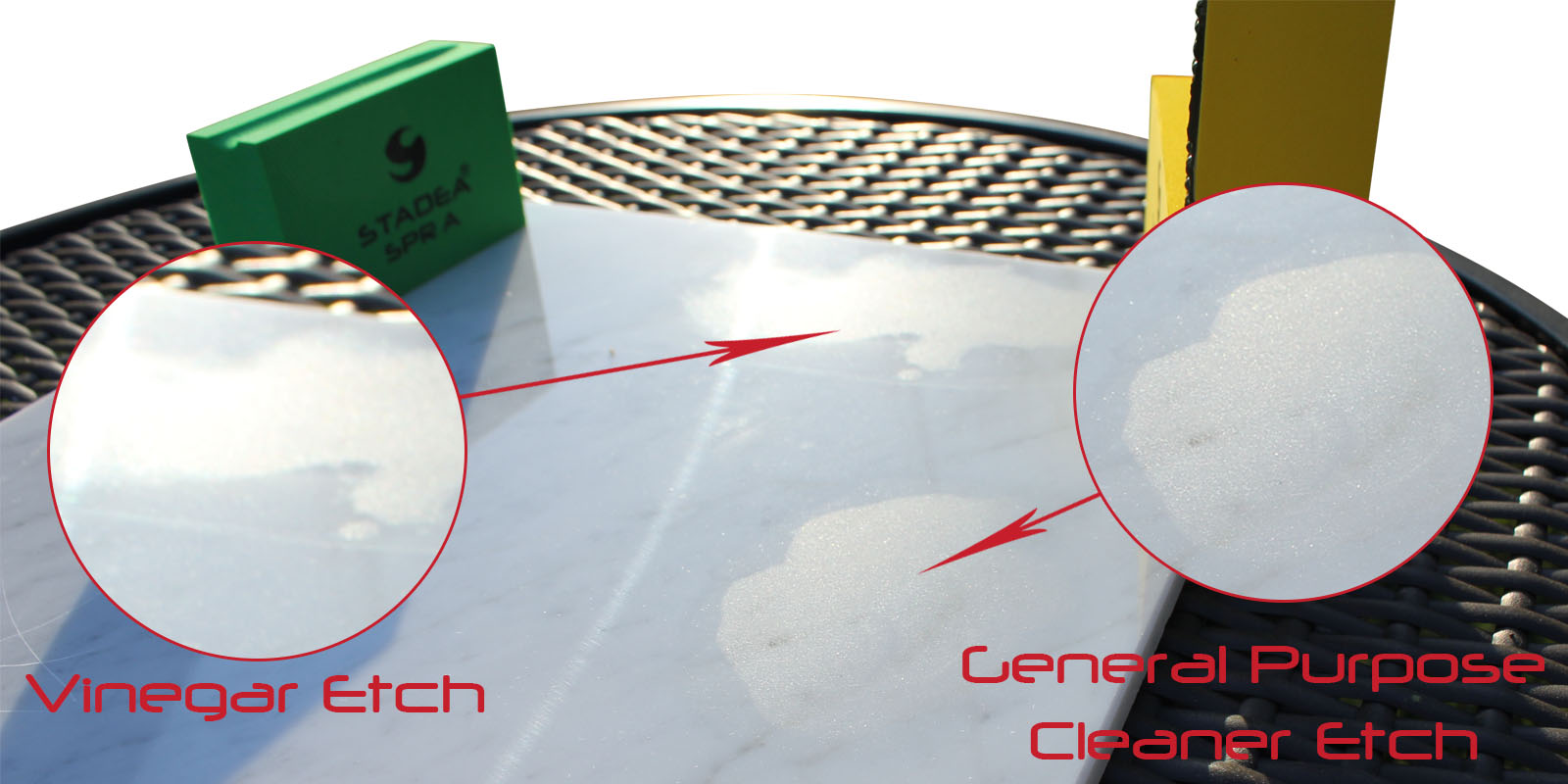 It is very effective tool to restore and polish stones with small acid etch, vinegar etch or stain patches, and stone marble restoration kit are very effective. It is equally effective to remove scratches on stones and revive it to the original shine. The control it offers is limit polishing only in damaged stone keeping shiny good surface untouched is its very important feature keeping scope of restoration area limited and controlled.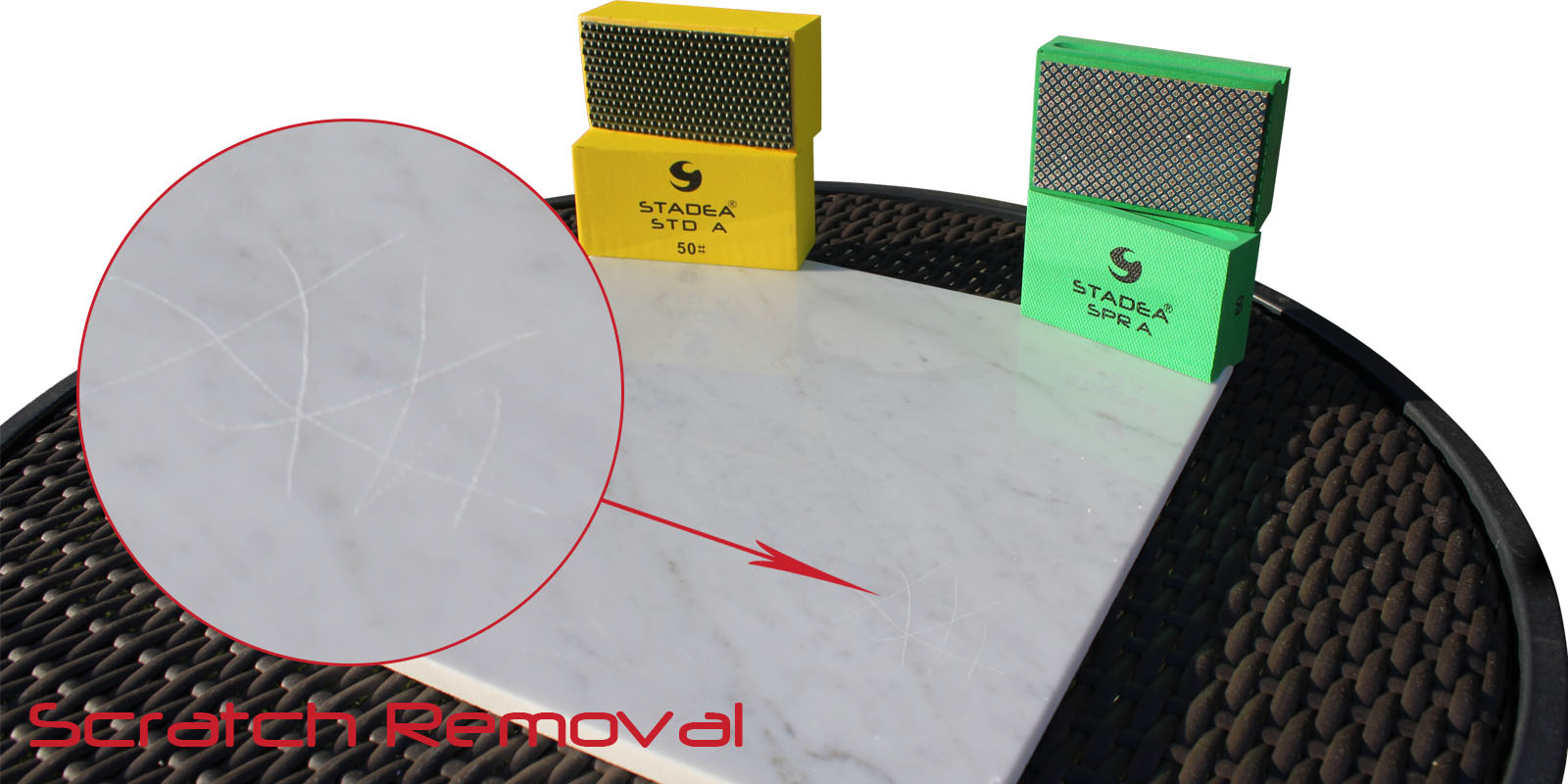 Smoothing Easing Stones Glass edges by Hand Pads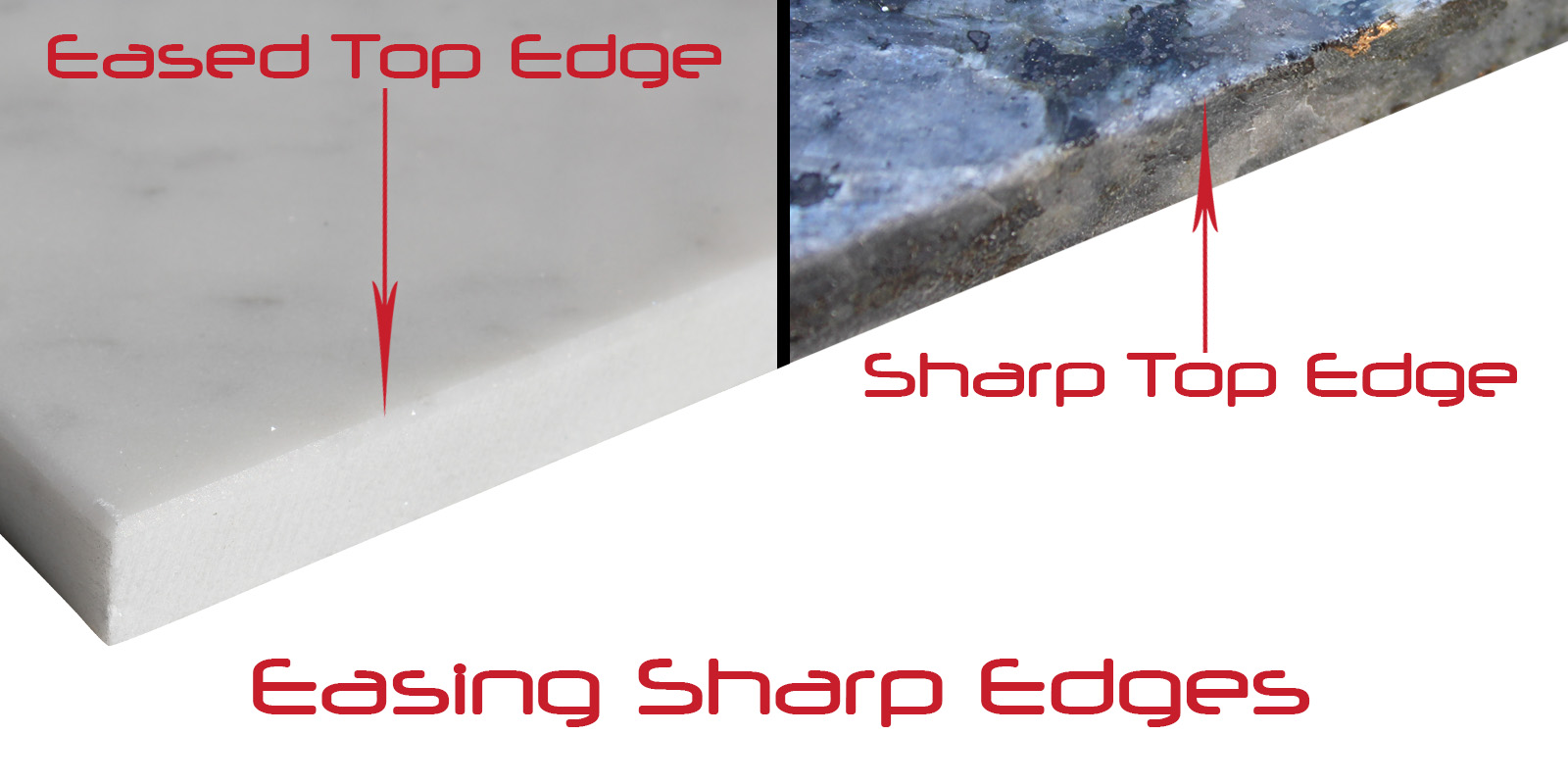 Hand polishing pads can be used to make the sharp edges of glass and stones smooth, easing sharp edges. It is much more safe and and looks more attractive. A cut result in a sharp on marble, granite and porcelain tiles glass edge which could be very dangerous. Diamond hand pads can easily sand edges to blunt and smooth the sharp edge; it can be easily smooth out by using the diamond hand pads.
Stone Glass Edge polishing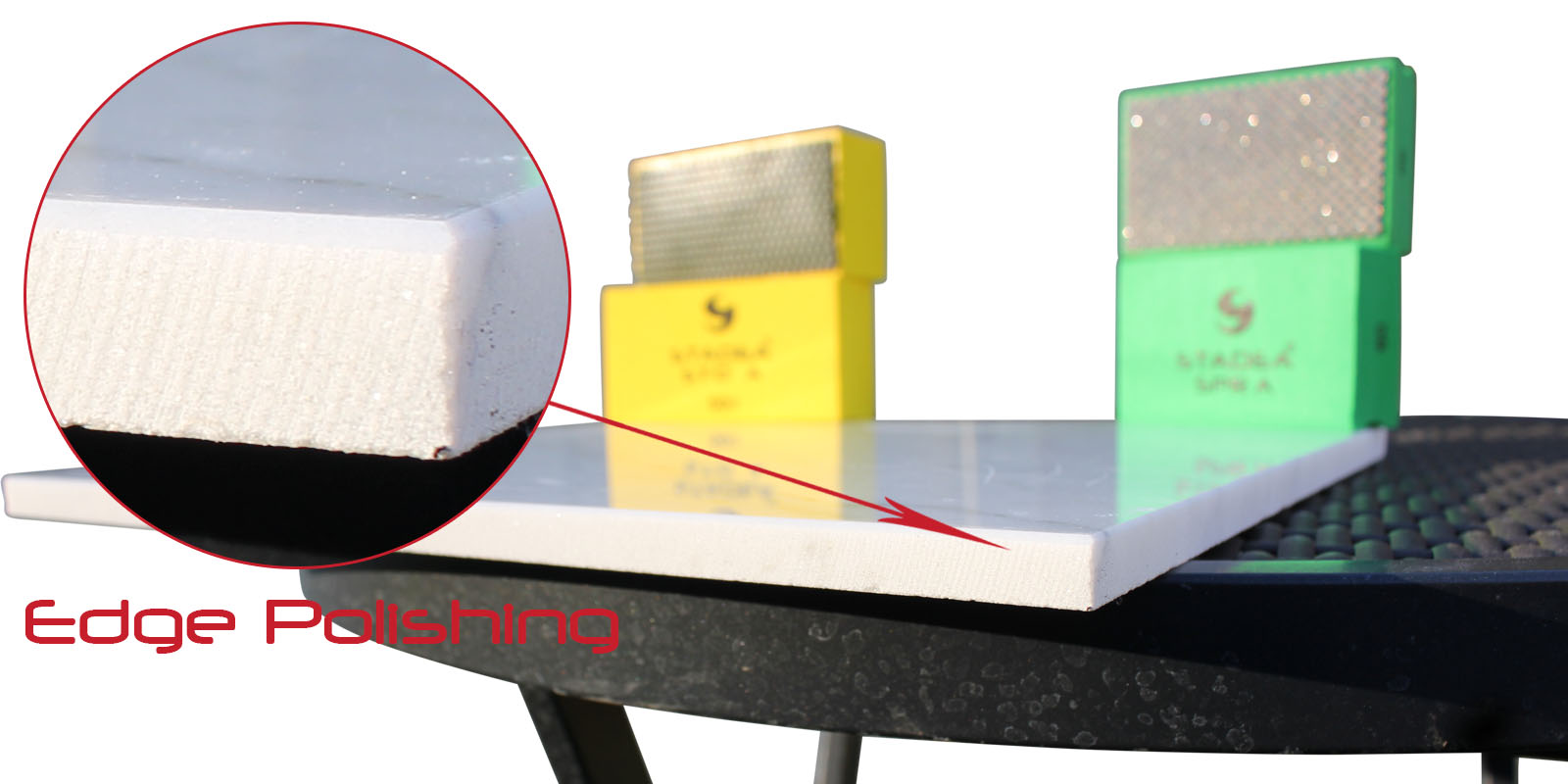 It is quiet easy to polish edges of glass, marble, concrete, stone, granite using diamond hand pads. Polishing edges of stone is quiet simple and effective task; it can be used to polish edges of different shapes as well. After completing the process it results in high quality polished edges.
Safety Guidelines
Always wear exact personal safety equipment when using diamond hand polishing pads. You surely need to wear face protection, safety glass, rubber gloves, respiratory masks, etc.
Before using the diamond hand pads, know the process how to use diamond hand polishing pads, carefully read the manufacturer's manual and safety instruction.
About Shop N Save Mart - Diamond Tools Supplier
Shop N Save Mart is a renowned industrial diamond tools supply company and the authorized retailer for Stadea tools. A custom B2B service provider, the organization provides a holistic solution for stone polishing, cutting, grinding, restoration, and diamond tools procurement to stone, granite and concrete manufacturers, fabricators, etc. Their professional quality tools offering, competitive pricing, exemplary focus on customer service, B2B friendly online portal, free shipping, free overnight shipping, fast shipping, delayed time zone shipping location, cost-effective deals, discounts, and other bargains makes them one of the best partners for all diamond tool related needs and supply.
USA & Canada 1-408-890-5200 / 1800-370-4546
Australia 0363-877-065 | Other Countries +1-408-890-5200
sales@shopnsavemart.com
Visit their website to subscribe to deals on diamond tools, and industry updates!