Posted by Sumit K Suman, President Shop N Save Mart on 11th Feb 2017
Are you a homeowner or contractor looking for the right surface for your countertop? Are you unsure about the best material that suits your personal taste and needs? You know how important it is to determine the right material at beginning to avoid rework and enjoy it for years to come.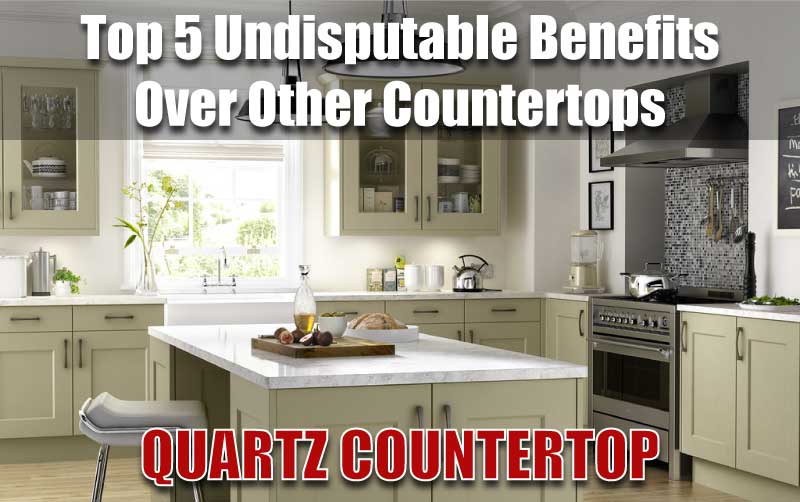 As a homeowner you have choices of Granite, Marble, Quartzite, Concrete, wood, Formica countertops surfaces to mention only a few. There are various choices available and each countertop surface has its own advantages and disadvantages.
At end of this blog, you will be more informed about what engineered Quartz countertops offer, and why it is becoming increasingly popular day by day. You will also be more aware whether Quartz meets your personal taste and needs.
Let us see the five indisputable benefits of engineered quartz countertops over other countertops materials.
Scratch Resistant
Quartz is one of the hardest material available for countertops surfaces. This engineered stone product combines ground quartz, resin and pigments. It results in a very hard substance. This product is, in fact harder and heavier than granite. Due to hardness, it is scratch resistant. Its physical properties makes it a perfect countertop surface.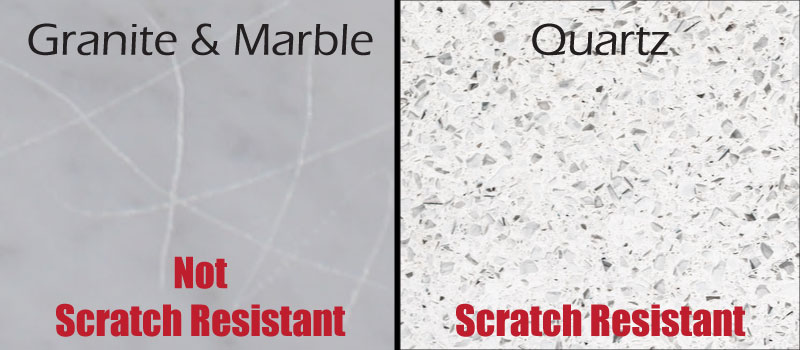 Even under heavy use It is easy to clean and maintain. This is why quartz countertops are certain to last for many decades. Engineered Quartz beats other natural stone Granite Marble for scratch resistance.
But is it truly stain resistant?
---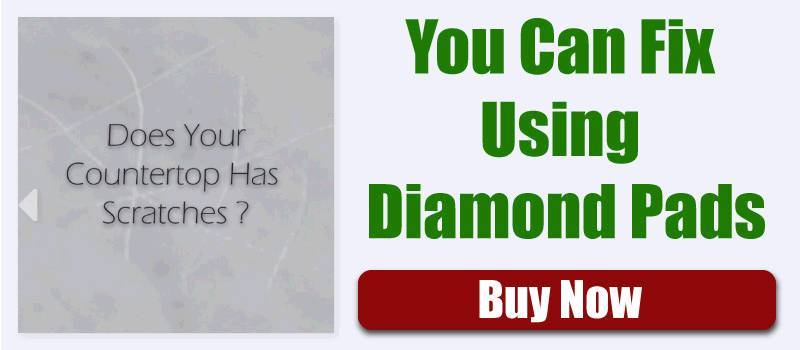 Scraches on Granite can be fixed using Diamond Polishing Pads for Granite, Buy Granite Polishing Pads to fix granite scratches.
---
Stain Resistant
Quartz is completely nonporous and thus no liquid can penetrate into quartz. It is impossible to stain a quartz surface. It is easy and fast to clean Quartz surface after the food preparation. This is why a engineered quartz countertops will always look good and adds incredible value to any kitchen. Natural stones Granite and Marble are porous and needs sealant on regular interval. When it comes to quality stain resistant countertops, quartz surfaces rank very high.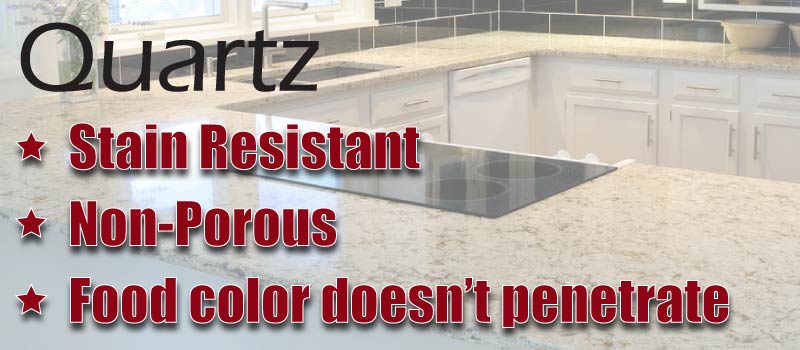 What about the hygiene?
Hygiene - Bacteria Resistant
As Quartz is hard and nonporous, no liquids, germs or any other type of food related bacteria can penetrate the countertops. A quick cleaning with hot water or household cleaner is more than enough to ensure a high level of hygiene. Wood, Granite and other porous surface will get scratched on the protective layer. It makes the food penetrate and it results into breeding place for germs. As Quartz does not need any protective layers and is non-porous, it never allows food to pentrate thought it. An investment in engineered quartz countertops is an investment in your healthy lifestyle and hygiene.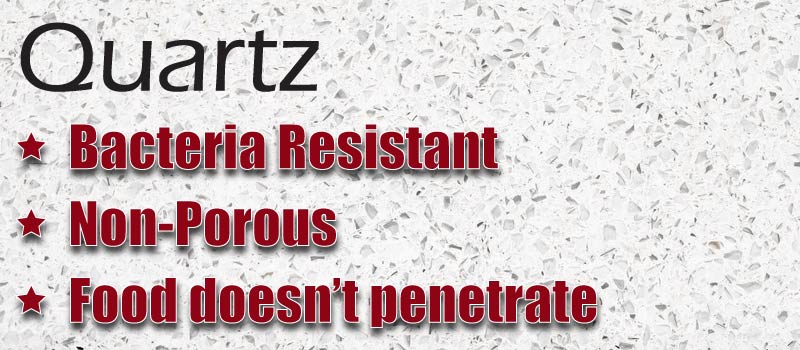 Let us see how it peforms on color consistency and available patterns?
Color Consistency and Appearance
Quartz is available in many colors and patterns. Quartz has a more uniform look than most of the natural stones. The color is consistent throughout the slab. Whereas natural stone has uneven patterns, colors and variance. As per personal taste, one person choice may differ from others. You can choose a right stone based on pattern and color depending your taste and personal aesthetic preferences. When it comes to color consistency and seamless design pattern, no natural stone can beat engineered Quartz and it is a clear winner.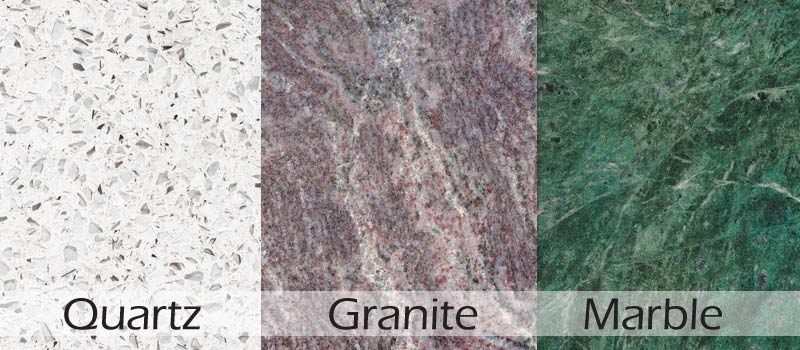 Easier Installation
According to professional installers and artisans, it is much easier to fabricate quartz than granite and other natural stone. Both of these products are quiet strong, but quartz fabrication and installation is faster and easier. The finish is cleaner on the seam joins, and takes lesser effort. Granite even with a perfect fit, it is is easier to find the seam joins. In Case of quartz it is seamless, especially with darker colors. The overall cost for Quartz fabrication for the homeowner is comparatively lower. The maintenance of a Quartz countertops is easier and less costly.
---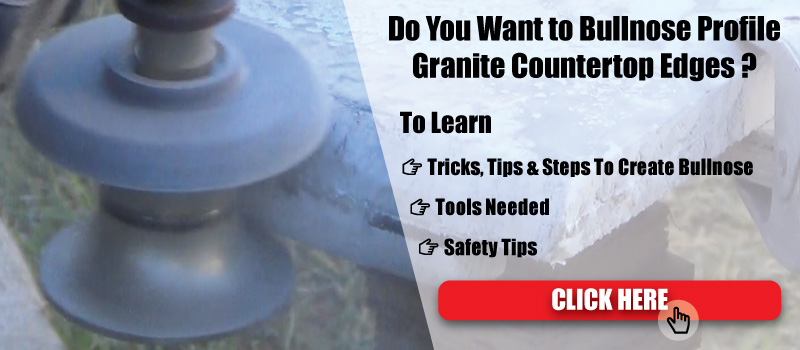 Do you have a countertop that needs bullnose and polish. Find all the tricks and tips to create bullnose edges on granite coutnertop for perfect shape and shiny edges.
---
So far we find Quartz wins on physical properties. Let us see, if there are other considerations and if you absolutely need Quartz in your kitchen, tabletop or other surfaces.
Quartz - Is this a No-Brainer Countertop Surface
Quartz is a strong, low maintenance, hygienic, scratch resistant material. Day by day it is gaining its popularity and gaining market share. It is very popular in industrial usage. Most of the countertops surfaces for restaurants, offices and common areas are made of Quartz. Many home owners prefer this over natural stone as well for their kitchen.
Considering its physical properties, Quartz is a clear winner. However, it is not a natural stone, and does not has natural patterns. It is a man made surface, per design it has optimal performance for these aspects. As a home owner, It depends on your priority. Would you consider the physical properties over natural design and patterns or not. As a home owner what is important for you and what you want for your kitchen. People looking for most hygienic, non-porous strong maintenance-free and durable kitchen surface, quartz is one of the suitable choices. None of the natural stone surface beats quartz on these properties. At the same time, most of the natural stone does not need manufacturing process. They have natural patterns and can have color discrepancies across batches, and it could be your kitchen style.
Let us know below which countertop material do you chose or plan to choose. Thanks for sharing your thoughts.